Serbia and Montenegro IEEE MTT-S Chapter
For more than 50 years the MTT-S has worked to advance the professional standing of its members and enhance the quality of life for all people through the development and application of microwave technology. As we enter into an exciting future our mission is to continue to understand and influence microwave technology.The activities sponsored by the MTT-S include a broad spectrum of conferences, workshops, tutorials, technical committees, chapter meetings, publications and professional education programs.
Serbia and Montenegro MTT-S Chapter was founded in 1989 as Yugoslav MTT-S Chapter. The chapter name was changed in 2005.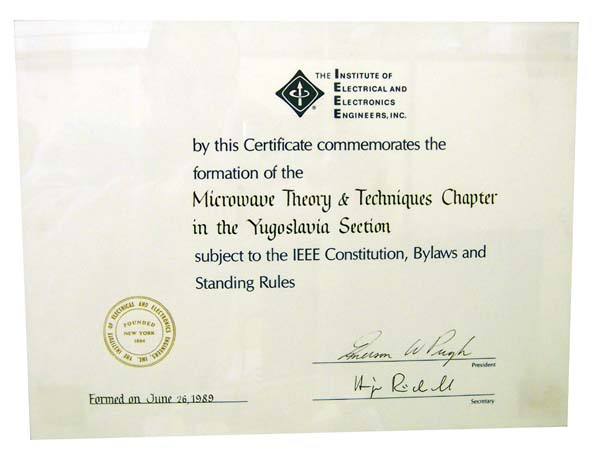 Serbia and Montenegro IEEE MTT-S Chapter won the MTT-S Outstanding Chapter Award

MTT-S has established an award for Outstanding Chapters worldwide that have exhibited exceptional performance. The chapter performance evaluation is based on how effectively chapters have served their MTT-S members considering technical activities, societal activities, educational activities, membership elevation, Fellow and award nominations. The Outstanding Chapter Award is given to no more than 5% of the MTT Society chapters. Serbia and Montenegro IEEE MTT-S Chapter has been selected to be among winners of the 2017 Outstanding Chapter Award. We are honored and proud to be among the best MTT-S Chapters in the world!